Typing-Bubble - touch-typing game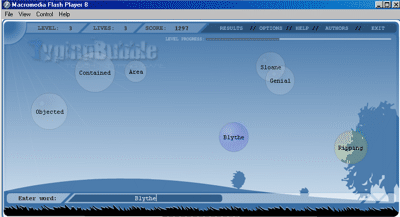 TypingBubble improves touch-typing skills and typing accuracy.
Bubbles carry various words going from left to right through the whole screen.
A player tries to burst bubbles by accurately typing the words.
Bubbles are bursting as they reach the right side of the screen. Game is over when three bubbles burst out at the same level.
The bubbles are colored depending on their speed.
White bubble: low speed
Blue bubble: average speed
Green bubble: high speed
There are two bonus bubbles.
Red bubble: bubbles stop for 10 seconds.
Yellow bubble: when this bubble bursts, all other bubbles within 30 pixels are also bursting.
You gain 10 points for every letter in a correctly typed word.
You loose 1 point for every letter in a wrongly typed word.
Every bubble touching the right side of the screen is charged 50 points penalty.
The player may proceed to the next level when all words are typed at the current level.
Game consists of 14 levels.
It may take you from dozens minutes to few months to play through the game depending on your typing speed.
One more feature to make your training more comfortable is to playback your favorite soundtracks while playing.
Copy 10 mp3 sound files to the folder containing tb.exe file.
Rename the sound files into:
track1.mp3
track2.mp3
...
track9.mp3
track10.mp3
Run the game and select "Next.." in the Options/Sound menu.
The file track1.mp3 will be played.
Further selecting "Next" will play track2.mp3, and so on around the cycle.
Thus, you can mix business with pleasure and improve your typing skills listening to your favorite music.
Top ⇑